Product Spotlight: TerraGreens®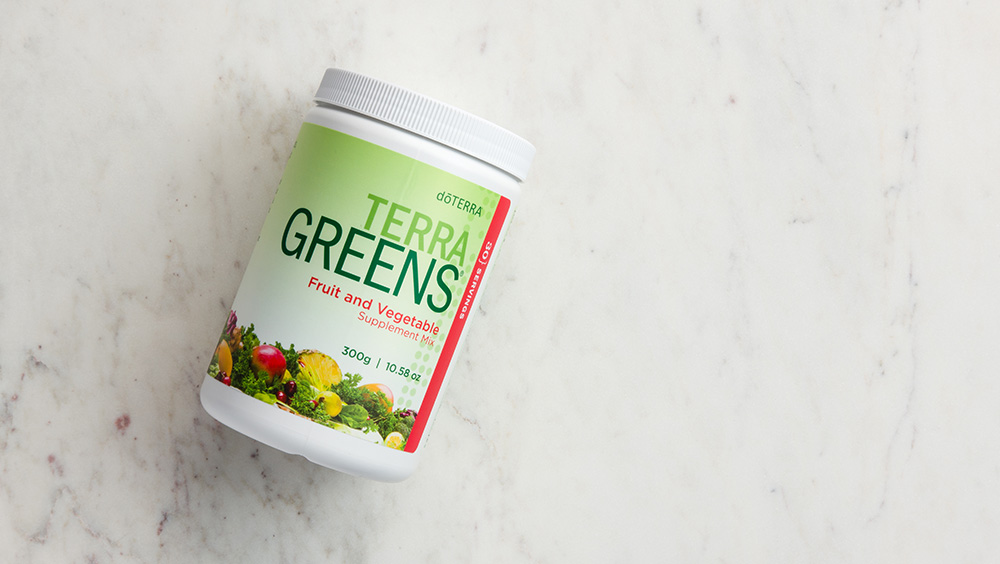 TerraGreens Product Description
One of the most universal nutritional issues is that people simply do not eat enough fruits and vegetables. According to the U.S. Center for Disease Control and Prevention, less than 1 out of every 3 adults eats the recommended amount of fruit per day and over 70 percent do not meet guidelines for vegetable consumption. Whether it is the time, taste, or cost involved in including the necessary fruits and vegetables in their diet, the majority of people simply do not eat enough fruits and vegetables for optimal health. With TerraGreens, doTERRA has put together a powdered greens mix that dismisses any excuse for not increasing your daily intake of fruits and vegetables. Naturally flavored with CPTG Certified Pure Therapeutic Grade® essential oils, TerraGreens provides a natural, GMO- and gluten-free, and vegan friendly boost of essential nutrients to support overall well-being.

What Makes TerraGreens Unique?
TerraGreens includes a proprietary combination of green, grass, fruit, and CPTG essential oil blends that provides a concentrated dose of the nutrients your body needs for optimal function. In particular, the essential oil combination of Lemon and Ginger essential oils may help support proper function of the digestive system.* Also, the included soluble and insoluble fiber further aid the digestive process.*
At only 35 calories per serving, taking TerraGreens is an easy way to support weight management.* The high nutrient density of TerraGreens allows you to get the nutrition you need, from very few calories—making it easier to meet your daily caloric guidelines. TerraGreens is also very low in sugar and sodium, further supporting your weight management goals.*
A single scoop of TerraGreens added to water or a smoothie is all you need to gain the nutrition you would get from eating a day's worth of fruits and vegetables. The convenience of TerraGreens makes it a viable solution for getting the proper dose of fruits and vegetables each day.
TerraGreens is natural, GMO- and gluten-free, and vegan friendly. For those concerned about specific food intolerances or sensitivities, TerraGreens is the ideal way to get your daily vital nutrients.

TerraGreens Uses and Benefits
TerraGreens provides the body with essential nutrients. The grass, fruit, and CPTG essential oil blends in TerraGreens provides a potent dose of many of the essential nutrients needed for support of optimal wellness.*

TerraGreens supports immune health.* Taking TerraGreens each day can help support the health of the immune system, making it a smart choice for those striving to live a healthy lifestyle and maintain well-being.*

With 1g of soluble fiber and 2g of insoluble fiber, and the included green, grass, and fruit blends, TerraGreens supports the optimal function of your digestive system.*

With only 35 calories per serving and a healthy dose of fiber, TerraGreens supports satiety and healthy, sustainable weight management.*

TerraGreens provides an easy and convenient way to get your fruits and vegetables. Simply add a scoop of TerraGreens to water or your morning smoothie for a delicious daily dose of essential nutrients.

TerraGreens has a delicious peppermint flavor. For those finicky eaters who don't like the taste of fruits and vegetables, TerraGreens adds a wonderful peppermint flavor to water or smoothies.

While other fruit and vegetable supplements may include questionable ingredients, you can rest easy knowing that TerraGreens is made of safe, healthy ingredients that are good for the body. TerraGreens is natural, GMO- and gluten-free, and vegan friendly.
How to Take TerraGreens
Add one scoop of TerraGreens to 8 oz. of water or your favorite beverage and drink immediately. Take once daily.
*These statements have not been evaluated by the Food and Drug Administration. This product is not intended to diagnose, treat, cure, or prevent any disease.
---
How would you rate this post?