Petitgrain Oil Uses and Benefits
Essential Oil Spotlight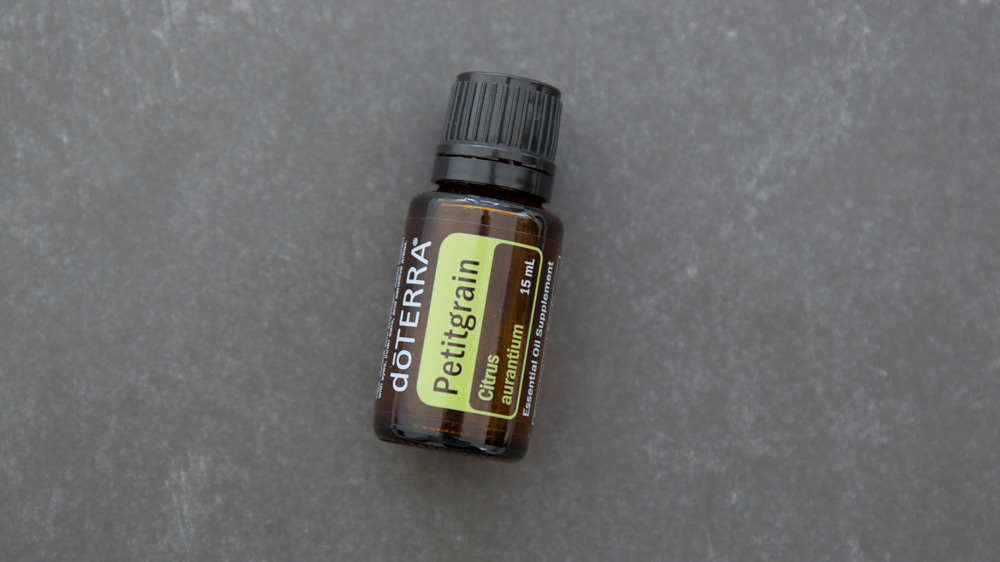 Petitgrain Oil Product Description
Derived from the bitter orange tree, Petitgrain oil has long been used in traditional health practices, for cleaning purposes, and for its various internal benefits.* Widely used in the perfume industry, Petitgrain oil offers a fresh, floral, and often herbaceous aroma that makes it unique and useful in a variety of settings. From promoting restful sleep to supporting healthy immune function, Petitgrain oil uses and benefits are certainly far reaching and effective.*

Where to Buy Petitgrain Oil
If you are looking for the best place to buy Petitgrain oil, visit the doTERRA Petitgrain oil product page for more information about purchasing. As a CPTG Certified Pure Therapeutic Grade® oil, Petitgrain has been carefully sourced and thoroughly tested to maintain potency and efficacy.

Petitgrain oil is also a part of the doTERRA Co-Impact Sourcing® initiative in Paraguay, where doTERRA strives to provide income for farmers in rural areas and to contribute to the protection of the Atlantic Rainforest in Paraguay.

Petitgrain Oil Uses and Benefits


Perhaps one of the greatest benefits of Petitgrain oil is its ability to promote relaxing feelings. Due to its chemical makeup, Petitgrain essential oil can be helpful in creating a calm, relaxed environment to promote feelings of relaxation. Consider placing a few drops of Petitgrain on your pillows and bedding before going to bed in order to enjoy its aromatic benefits. You can also combine other relaxing oils like Lavender or Bergamot with Petitgrain on the bedding to promote a more relaxing atmosphere.

Petitgrain oil has long been known for its benefits to the body when taken internally. Taking Petitgrain internally can help benefit internal systems like the cardiovascular, nervous, digestive, and immune systems.* To enjoy the internal benefits of Petitgrain oil for the body's systems, add one to two drops of the oil to water or other beverages.* Not only will this allow you to reap the internal benefits of the oil, but you'll simultaneously get to enjoy the fresh taste that Petitgrain has to offer.

The relaxing properties of Petitgrain essential oil can also be beneficial for massage. When you want a relaxing foot massage, dilute a few drops of Petitgrain oil with doTERRA Fractionated Coconut Oil before rubbing the combination on the bottoms of the feet. As you breathe in the calming scent of Petitgrain oil and massage the feet, you'll feel relaxed in no time.

While the internal use of Petitgrain oil can be helpful for promoting health of body systems, it can also help further promote relaxation and calm feelings.* Consider taking Petitgrain essential oil internally when you want to ease tense feelings, calm the nervous system, or promote a restful night's sleep.*

Similar to other citrus essential oils, Petitgrain oil makes a great addition to hot beverages. If you enjoy drinking herbal tea or other hot drinks, consider adding a few drops of Petitgrain oil to help enhance the flavor. Not only will you enjoy the unique flavor of Petitgrain oil, but you'll also benefit from the calming properties it provides.*

To help reduce the appearance of skin imperfections, consider adding a couple drops of Petitgrain oil to Fractionated Coconut Oil and applying it to skin blemishes or imperfections. When using a new essential oil topically, it can be helpful to test a small dose of the oil on your skin to ensure that it doesn't cause any skin sensitivity or irritation. Due to their potency, it is also important to dilute essential oils with a carrier oil before using them on the skin to help minimize skin irritation.

Want to create a calming atmosphere in your home, office, or classroom? Diffuse Petitgrain oil in the essential oil diffuser of your choice when you want to create a relaxing, calming environment. You can also combine Petitgrain with other calming oils like Bergamot, Lavender, or Eucalyptus to further promote relaxation.

Along with benefits for the systems of the body, Petitgrain oil may also provide antioxidant support when taken internally.* To enjoy the antioxidant benefits that Petitgrain oil has to offer, consider taking one to two drops in a doTERRA Veggie Cap for a dietary supplement.*
Fun Fact: The name Petitgrain is a French word that translates to "little grains." It was given this name because the fruit of the bitter orange tree is quite small for a citrus fruit—about the size of a cherry.

Plant Description
Petitgrain oil comes from the bitter orange tree, Citrus aurantium. Originally from Southern China, the bitter orange tree was brought to Paraguay in the 19th century, and now flourishes easily in this part of the world. The bitter orange tree produces three different essential oils. Petitgrain oil is taken from the tree's twigs and leaves and steam distilled to produce a refreshing, floral, and herbaceous essential oil. Neroli essential oil is derived from the blossoms of the bitter orange tree, and bitter orange essential oil comes from the rinds of the fruit through the process of expression. Petitgrain oil has been used historically for traditional health practices and has been a popular ingredient for the perfume industry since the 18th century.

Chemistry of Petitgrain Oil
Main Chemical Components: Linalyl acetate, linalool, alpha-terpineol
The chemical structure of Petitgrain oil contributes to its ability to provide calming and relaxing benefits. Essential oils with linalyl acetate and linalool, like Petitgrain, Lavender, and Bergamot are known for their relaxing properties. These chemical compounds contribute to a calming and peaceful environment, which is why Petitgrain can be helpful for promoting restful sleep.*

Sourcing
doTERRA sources Petitgrain from Paraguay as part of a Co-Impact Sourcing initiative designed to support small-scale farmers in rural areas. By promoting community development projects and offering farmers fair compensation, doTERRA is able to responsibly source a high quality oil that benefits users while simultaneously helping sustain the livelihood of growers in Paraguay.

Not only does the Petitgrain oil Co-Impact Sourcing initiative benefit the lives of those who plant, grow, and harvest bitter orange trees, it also provides a more environmentally friendly alternative to other uses for the land in this area. By providing this option, doTERRA is helping protect the Atlantic Rainforest of eastern Paraguay.

Oils that Blend Well with Petitgrain Oil
As a citrus essential oil, Petitgrain oil will blend well with other citrus-based oils like Bergamot or Lemongrass. In addition, it blends well with warm essential oils such as Cinnamon Bark or Cassia oil. The fresh, floral notes of Petitgrain oil also make it a perfect companion for essential oils like Geranium or Eucalyptus.

Cautions
Possible skin sensitivity. Keep out of reach of children. If you are pregnant, nursing, or under a doctor's care, consult your physician. Avoid contact with eyes, inner ears, and sensitive areas.
*These statements have not been evaluated by the Food and Drug Administration. This product is not intended to diagnose, treat, cure, or prevent any disease.
---
How would you rate this post?