The Benefits of dōTERRA® SPA Citrus Bliss® Hand Lotion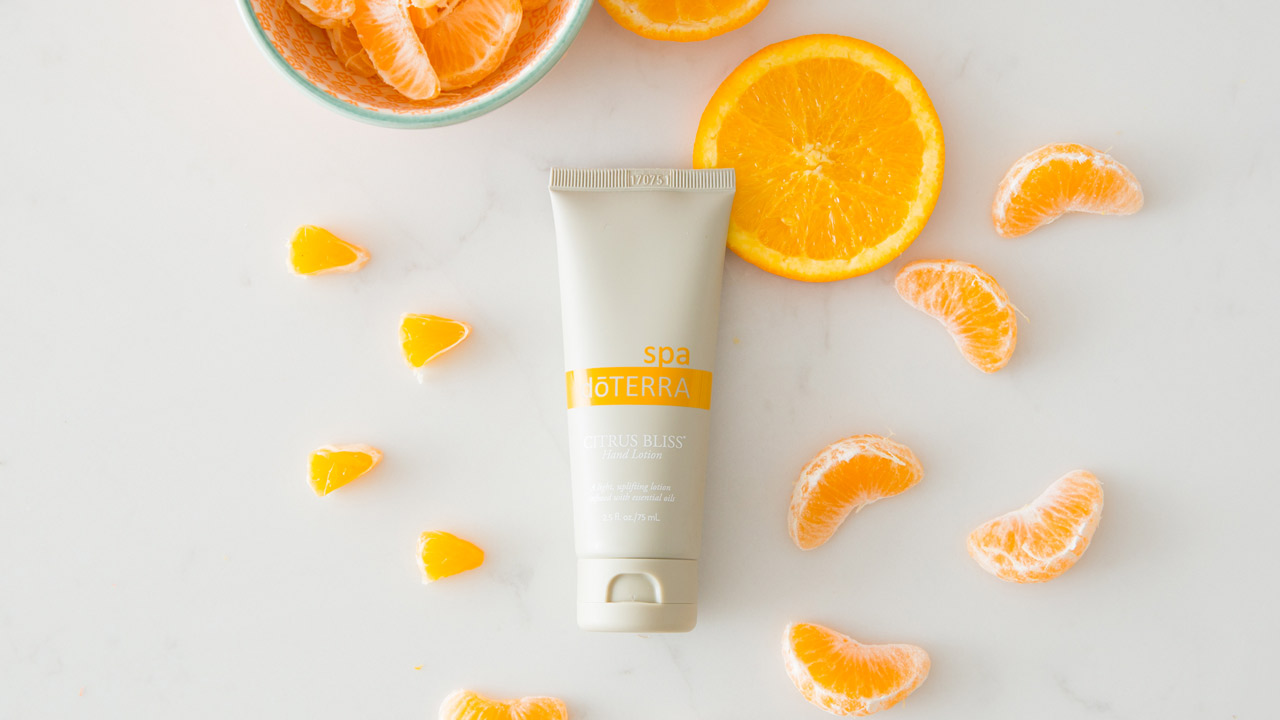 One of the most popular doTERRA essential oil blends, Citrus Bliss provides a refreshing, invigorating scent and has the ability to uplift and positively affect mood. The doTERRA SPA Citrus Bliss Hand Lotion incorporates all of the energizing, uplifting qualities of the Citrus Bliss Invigorating Blend, combining them with a soft, nourishing hand lotion. Housed in a convenient, on-the-go bottle, Citrus Bliss Hand Lotion uses natural ingredients to nourish the skin without leaving your hands feeling greasy.

Where to buy doTERRA SPA Citrus Bliss Hand Lotion
If you want to order your own bottle of Citrus Bliss Hand Lotion, visit the doTERRA SPA Citrus Bliss Hand Lotion product page to learn more. You may also be interested in other products in the doTERRA SPA product line, like the doTERRA SPA Rose Lotion, or doTERRA SPA Hand and Body Lotion.

The doTERRA SPA product line uses pure, high quality CPTG® essential oils to give you skin-nourishing, highly aromatic spa products. Whether you are on the go, or want a relaxing spa experience at home, the products in the doTERRA SPA collection are sure to give you the pampering you crave.

doTERRA SPA Citrus Bliss Hand Lotion Uses and Benefits
When you want to enjoy the refreshing aroma of Citrus Bliss on-the-go, or you need to nourish dry, dull skin on your hands, the Citrus Bliss Hand Lotion is the perfect product to keep in your purse, your car, or in a travel bag. Its compact packaging makes Citrus Bliss Hand Lotion easy to take with you almost anywhere, keeping your hands hydrated and smooth no matter where you are.

The doTERRA Citrus Bliss Invigorating Blend is decidedly a popular product because of the versatile benefits it provides for the user. Most importantly, this blend creates an energizing, uplifting aroma that can help improve mood. When you use the doTERRA SPA Citrus Bliss Hand Lotion, not only will you be nourishing and hydrating your skin, you'll invigorate your senses and uplift your mood as you inhale the scent of Citrus Bliss.

Along with refreshing essential oils, the Citrus Bliss Hand Lotion formula uses ingredients to help soothe and moisturize the skin. Ingredients like macadamia seed oil and sunflower seed oil provide hydration for the skin, and allow it to retain moisture. These ingredients, along with essential oils, will keep the hands hydrated and soft, not to mention smelling lovely.

Many lotions and creams can soften and soothe the skin, but they leave the hands feeling greasy or oily. Thankfully the Citrus Bliss Hand Lotion formula is designed to absorb quickly into the skin, avoiding that greasy feeling. This quick absorption will leave the hands smooth, soft, and healthy-looking.
Ingredients

Wild Orange: One of doTERRA's top selling oils, Wild Orange oil can be uplifting for both the mind and the body.

Lemon: With an uplifting scent that promotes a positive mood, Lemon essential oil is the perfect addition to the Citrus Bliss Blend.

Bergamot: Bergamot oil can simultaneously calm and uplift the senses, with a soothing yet invigorating aroma.

Tangerine: Commonly used to energize and uplift mood, Tangerine oil is known to promote feelings of happiness when applied topically.

Grapefruit: Often used in skincare products for its ability to promote healthy-looking skin, the pure, refreshing scent of Grapefruit oil can also uplift mood.

Sunflower and Macadamia Seed oils: These ingredients provide significant moisturizing benefits to the skin, helping the skin maintain its moisture and remain hydrated.

Cautions
For external use only.
How would you rate this post?