Product Spotlight: dōTERRA Salon Essentials® Smoothing Conditioner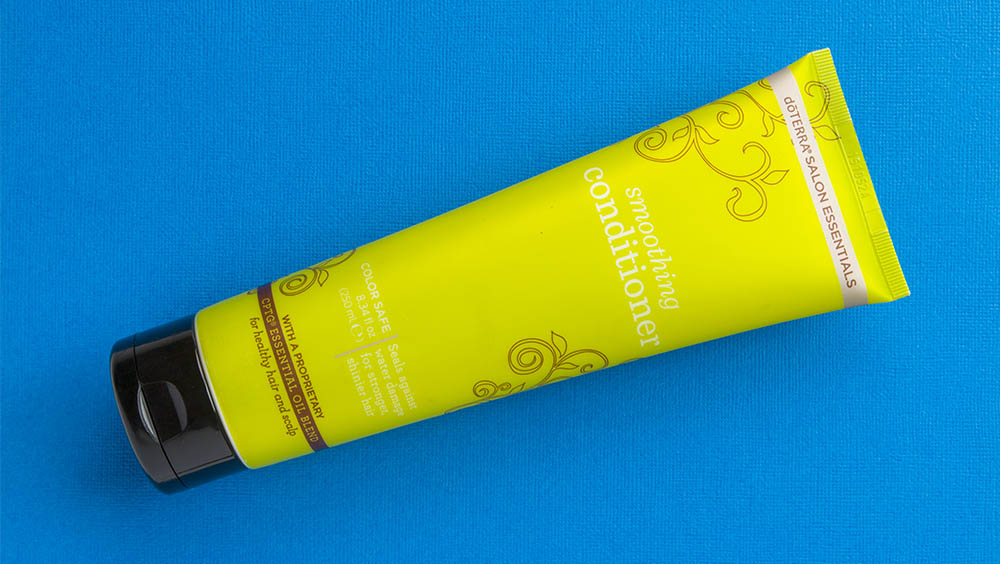 Smoothing Conditioner Product Description
Designed to create luminous, healthy-looking hair, the doTERRA Salon Essentials Smoothing Conditioner uses some of the finest natural ingredients and best essential oils for hair to reduce visible signs of damage, prevent static, and smooth strands. A must-have product from the doTERRA Salon Essentials line, the Smoothing Conditioner will take any hairstyle to the next level with smoothing, moisturizing ingredients that are soft on hair.

Where to Buy doTERRA Salon Essentials Smoothing Conditioner
Visit the doTERRA Salon Essentials Smoothing Conditioner product information page to learn more about purchasing. A perfect companion to the doTERRA Salon Essentials Protecting Shampoo, the Smoothing Conditioner uses CPTG Certified Pure Therapeutic Grade® essential oils to smooth and nourish hair. The smoothing conditioner also pairs well with other products in the doTERRA Salon Essentials product line.

Smoothing Conditioner Uses and Benefits
For those who worry about maintaining hair color after a pricey trip to the salon, the Smoothing Conditioner can help provide hair color maintenance and protection. Whether you color your hair often, or just want to make your color last as long as possible, the Smoothing Conditioner includes natural botanical extracts to help maintain and protect color.

If you commonly deal with damaged or split ends, the Smoothing Conditioner is designed to improve the visible signs of damaged hair and reduce the appearance of split ends. With soothing essential oils, the Smoothing Conditioner provides immediate conditioning, smoothing, and shine.

Unlike other hair products and deep conditioners that include unsafe toxins and chemicals, the doTERRA Salon Essentials Smoothing Conditioner includes a CPTG Certified Pure Therapeutic Grade blend of Peppermint, Marjoram, Lavender, Cedarwood, Eucalyptus, Rosemary, and more to protect the hair and keep the scalp looking clean and healthy. When you use the Smoothing Conditioner, there is no need to worry about harmful toxins damaging your hair—the soothing power of essential oils will promote smooth, healthy-looking locks.

Coloring and styling can take a serious toll on the hair, and often lead to damage or the appearance of hair mass loss. The Smoothing Conditioner can help replace the appearance of hair mass lost through mechanical and chemical treatments, making it the perfect product for those who style or color their hair often.

Harnessing the power of essential oils for hair, the Smoothing Conditioner not only acts as a daily conditioner, but as a deep conditioner that promotes hair surface maintenance, specifically for chemically treated hair. This deep conditioning will leave the hair feeling silky, soft, and shiny.

If you worry about the damage caused to hair by styling, the Smoothing Conditioner can help keep hair looking healthy even when exposed to damaging elements like blow dryers and brushing. As it smoothes the hair, the Smoothing Conditioner reduces the combing force in both wet and dry hair to help reduce styling damage to hair. Not only will the Smoothing Conditioner help reduce styling damage to hair, but it also reduces drying time—shaving a few minutes off styling time every day.
Ingredients
Lavender: Known as one of the most versatile essential oils, Lavender oil has a pleasant floral aroma that makes it the perfect addition to any blend.

Peppermint: The fresh, invigorating scent of Peppermint essential oil makes it a common ingredient choice for beauty and hair products.

Marjoram: Known anciently as a symbol of happiness, Marjoram oil has a warm, woody, herbaceous aroma and is renowned for its calming properties.

Cedarwood: A warm, woody oil that promotes relaxation, Cedarwood essential oil adds versatility and warmth to this essential oil combination.

Rosemary: Due to its chemical makeup, people often use Rosemary oil for hair. It can be massaged onto the scalp to help promote a healthy-looking head of hair.

Eucalyptus: Known for its cleansing properties, Eucalyptus oil can be a helpful addition to skin and hair products used for cleansing and purifying.

Cautions
For external use only.
How would you rate this post?