dōTERRA Motivate® Uses and Benefits
Essential Oil Spotlight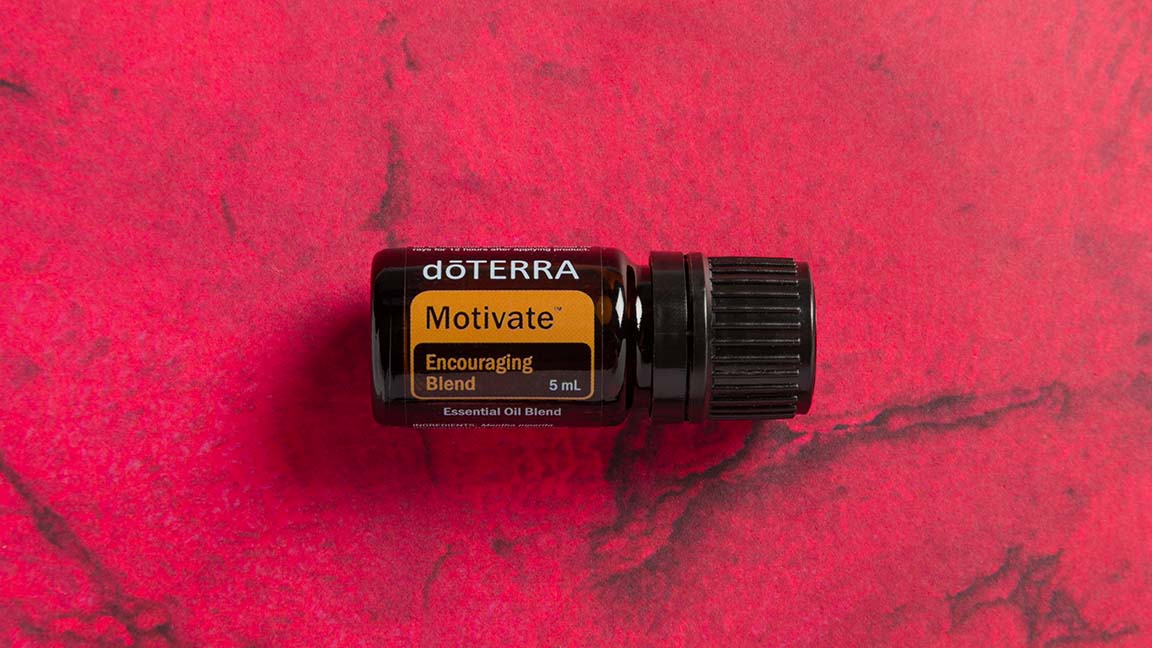 doTERRA Motivate Product Description
If you're experiencing stagnancy in your life, or have found yourself with little inspiration, minimal confidence, or greater pessimism, take time to make a change with doTERRA Motivate and propel your life in the direction of creativity and purpose. doTERRA Motivate essential oil blend is formulated with mint and citrus essential oils that inspire the senses, allowing you to tear down the demotivating road blocks that stand between you and your potential. Whether you need motivation to clean your room, start training for a race, or pick up your paintbrush again, doTERRA Motivate blend can support you with the courage and confidence to replace a pessimistic outlook on life with an optimistic one full of possibilities.

Where to Buy doTERRA Motivate
To buy a bottle of doTERRA Motivate, visit the doTERRA Motivate Encouraging Blend product page.

Something unique to doTERRA essential oil blends is their composition. All essential oils blends from doTERRA are made up of CPTG Certified Pure Therapeutic Grade® essential oils. When oils are classified as CPTG®, they have passed the CPTG protocol, which involves a series of rigorous tests that assess the purity, potency, and quality of each batch of essential oils. When you purchase a blend from doTERRA, you can be confident knowing that the essential oil products you receive are pure and potent, and ready to meet your needs.

The purity and potency of an essential oil is crucial to its effectivity. These qualities are so critical because when essential oils are filled with filler substances and impurities, as many oils on the market are, their quality and effectivity are diminished. However, when oils are pure and potent, they are able to work properly and effectively to enhance well-being.

doTERRA Motivate Uses and Benefits


Too often, feelings of worthlessness, apprehension, and weakness can cloud thoughts and limit potential. When you feel these feelings start to weigh on you, use the doTERRA Motivate blend topically or aromatically for a boost of positive emotion. doTERRA Motivate oil blend can promote feelings of confidence, courage, and belief and will help you become a more positive and more inspired you.

If setbacks and disappointments have you down on yourself or are starting to have a discouraging effect on your emotions, it may be time to regroup and restore you to a more positive outlook. In times like these, use doTERRA Motivate as an encouraging companion to steer you away from negative emotions. doTERRA Motivate will help counteract the damaging emotions of doubt, pessimism, and cynicism.

In need of a boost of confidence before a performance or speech? Here's a little essential oil tip specifically for those moments. Simply apply doTERRA Motivate oil blend to a shirt collar or a piece of clothing that is close to the face, and the blend's aroma will give you the self-assurance you need to perform your best.

When working on a long paper for school or spending hours on a project, add one or two drops of doTERRA Motivate blend to the diffuser of your choice and diffuse. This fresh and minty blend will help you stay motivated and determined so that you can complete your projects.

Once you've taken the step to get up and press forward, continue to use the doTERRA Motivate essential oil blend to encourage and motivate you in your endeavors. If you are a part of sporting events or other competitions, apply doTERRA Motivate oil to your pulse points before participating. This will give you a positive surge of confidence that will assist you in doing your best.
Chemistry of doTERRA Motivate
doTERRA Motivate is formulated with a blend of citrus and mint essential oils such as Yuzu, Clementine, and Peppermint. These oils come together to create a chemical profile that is high in monoterpenes and monoterpene alcohols, which contain uplifting and toning properties. If you would like to learn more about the chemical backgrounds of other aromatherapy oils, visit the doTERRA Emotional Aromatherapy™ page.

Key Ingredients
Peppermint Plant
Clementine Peel
Coriander Seed
Basil Herb
Yuzu Peel
Melissa Leaf
Rosemary Leaf
Vanilla Bean Absolute
Cautions
Possible skin sensitivity. Keep out of reach of children. If pregnant or under a doctor's care, consult your physician. Avoid contact with eyes, inner ears, and sensitive areas. Avoid sunlight or UV rays for up to 12 hours after applying product.
How would you rate this post?