Butternut Squash Pitas
with Lime Essential Oil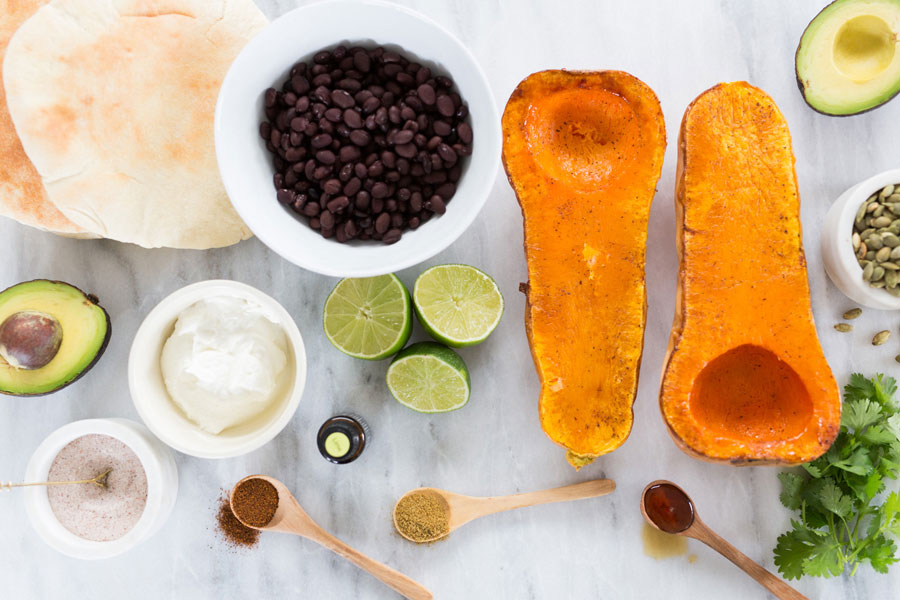 Make your next meal a little bit lighter with these delicious Butternut Squash Pitas. They are infused with Lime essential oil which is a natural, internal cleanser and supports healthy immune function.* These are great to have at parties or a simple family dinner.
Butternut Squash Pitas
with Lime Essential Oil
Servings:
6
Prep Time:
15
Cook Time:
45 Minutes
Difficulty:
Medium
Ingredients:
1 butternut squash, split vertically and seeds removed
Extra-virgin olive oil
1 teaspoon cumin
1/2 teaspoon chili powder
Kosher salt, to taste
1 tablespoon maple syrup
4 pita breads (6-inch)
1 can black beans, rinsed and drained
Juice from 1 lime, divided
1–2 drops Lime essential oil
1/4 cup Greek yogurt
2 avocados, sliced
Garnish: chopped cilantro and toasted pumpkin seeds
Instructions:
1. Preheat oven to 400 degrees. Brush butternut squash halves with olive oil, and place flesh side down on a foil-lined baking sheet. Roast until tender, about 45 minutes. Set aside to let cool slightly, then mash in a bowl with cumin, chili powder, maple syrup, and salt.
2. Toss black beans with half of lime juice, drizzle of olive oil and a pinch of salt.
3. Whisk yogurt with other half of lime juice, Lime essential oil, and a pinch of salt. Add a little water if needed, until it's a consistency that can be drizzled.
4. Spread butternut squash mixture on pitas and top with black beans and avocado slices. Drizzle with yogurt mixture and garnish with cilantro and pumpkin seeds.
Tips:
For a warm pita, try baking the breads in the oven for 10 minutes until golden and crispy around the edges.
*These statements have not been evaluated by the Food and Drug Administration. This product is not intended to diagnose, treat, cure, or prevent any disease.
---
How would you rate this post?