Our Best Kept Secrets: Spearmint, Tangerine, and Lime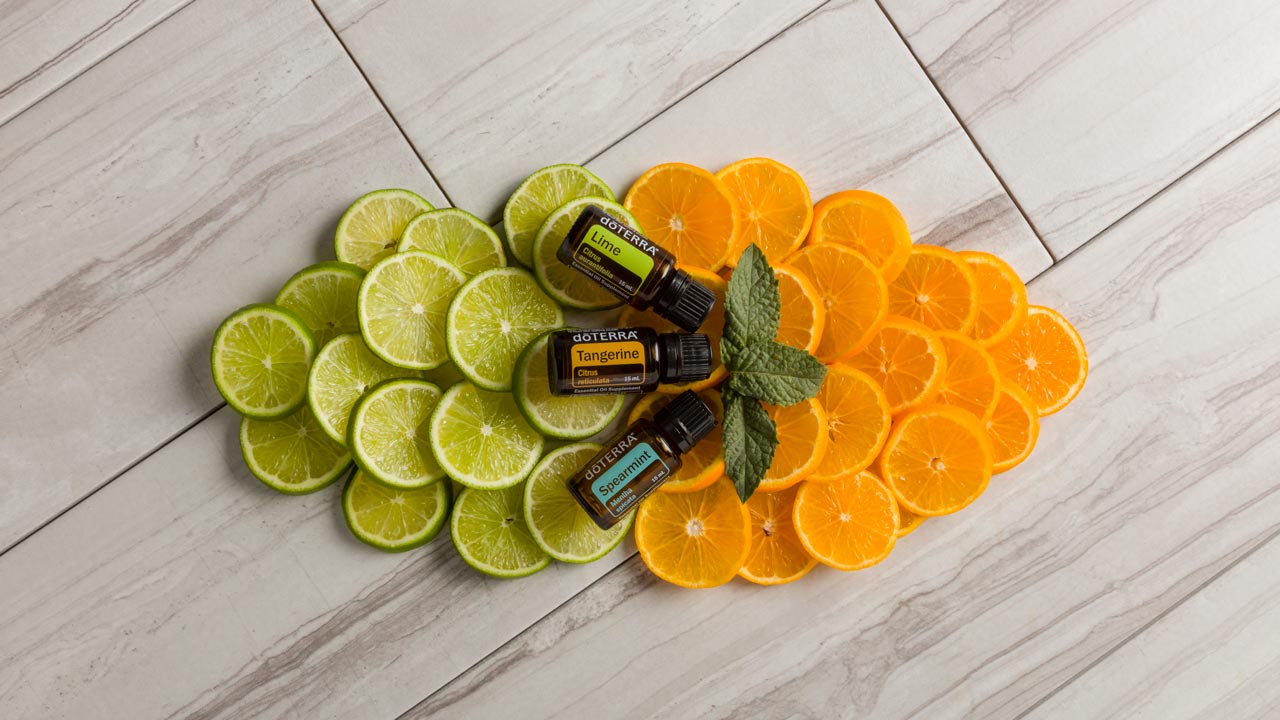 Mint and citrus are an agreeable summertime pairing, as you'll find if you do a simple search for summer beverage recipes online. But, while all-time favorite oils Peppermint, Wild Orange, and Lemon are sure to please, there are plenty of other options to try. If you have yet to try
Spearmint
,
Tangerine
, and
Lime
you're missing out—both on benefits and captivating flavor. As some of our personal favorites, these three powerhouse oils also deserve some time in the limelight.
A Milder Mint


Spearmint is the more mild option to Peppermint as it contains less menthol. The main chemical component of Spearmint is carvone. Carvone contains energizing properties that strongly contribute to Spearmint's ability to improve your mood. Brazilian neuroscientists published a study which found that the carvone in Spearmint demonstrated a statistically significant calming effect against a heightened state of excitement.* Consequently, it is believed that Spearmint may support healthy nervous system function.*
If you find Peppermint oil to be too strong, Spearmint is a great substitute. For example, you can take it in a Veggie Capsule to relieve the occasional upset stomach.* Similar to Peppermint, Spearmint oil helps provide you with a sense of focus when worn or inhaled. You can also use it in oral hygiene in mouth rinses, or add a few drops Spearmint and doTERRA On Guard® to cool water to soak your child's mouth guard. Despite their similarities, the flavor of Spearmint is milder and unique—try it in these
Spearmint Chocolate Chip Cookies
.
The Wider World of Citrus Oils


Tangerine and Lime are pretty closely related, both belonging to the
Rutacae
family and Citrus genus. If you love Wild Orange, Tangerine has a similar orangey aroma, but it is more mild and sweet and has soothing and relaxing properties. Lime is a tangy, fresh option sure to brighten any day, but like Lemon also possesses many other uses. Tangerine and Lime both have chemical components that support the immune system and provide essential antioxidants to the body.*
Tangerine is frequently used in baking as the essential oils brings bold flavor to any dessert or beverage you are looking to add some zest to. It can similarly bring you a zest for life when inhaled as it can help brighten your outlook. It can also be used as an addition to homemade cleaners that are safe for the whole family.
Lime possesses a wide range of internal benefits for multiple systems and organs of the body in addition to the immune system. Here are a few examples:
Lime oil may support the health of the brain and nervous system.*
It may support healthy lung and respiratory function.*
It supports healthy metabolism and weight management.*
Lime may support healthy blood sugar and cholesterol levels already in the normal range.*
It supports gastrointestinal function and health; relieves occasional heartburn and indigestion.*
Lime essential oil may support the health of the colon.*
Lime may also help to support cardiovascular health.*
In addition, Lime (like Lemon) helps remove grease spots and sticker residue. One drop can also be added to facial cleansers, shampoos, or toothpastes for an extra boost in cleansing properties for skin, hair, and teeth.**
A Partnership


As you can see, the mint oils and citrus oils both have similar uplifting and cleansing properties that make a beautiful partnership. To utilize both the citrus and mint scent for your kitchen, try your hand at making these easy
Tangerine and Spearmint Garbage Disposal Refreshers
. You will enjoy the fresh smell of this classic combination every time you use them. Or, for a cleansing and refreshing drink, add a drop of Lime and a drop of Spearmint to your water with some cucumber slices.* Finally, add this combination to any diffuser to set the tone for a bright and happy day: one drop Spearmint, two drops Tangerine, and two drops Lime.
**Note: Citrus oils can cause photosensitivity, so we do not recommend exposing the skin to direct sunlight after topical application of those essential oils. However, shampoo and cleansers are wash off products so there is no phototoxicity concern. Essential oils on their own are very potent and that is why citrus oils carry the photosensitivity warning.
*These statements have not been evaluated by the Food and Drug Administration. This product is not intended to diagnose, treat, cure, or prevent any disease.
---
How would you rate this post?