Donation to World Village supports community in Bolivia
Sisters and dōTERRA leaders Emili Whitney and Jenni Wilson work with non-profit organization World Village and the dōTERRA Healing Hands Foundation™ to support community in Montero, Bolivia
---
For over 10 years, a small Utah-based non-profit organization has been making a big impact for communities in Montero, Bolivia. The organization, World Village, arranges humanitarian trips to Bolivia every summer to provide medical care and humanitarian aid to communities in Montero. Medical supplies are generally donated to World Village for these expeditions by local facilities in St. George, Utah, where the organization is based. Those donations are then delivered on the annual trips.
Mike Wilson, husband of doTERRA Leader Jenni Wilson, is an emergency room doctor in St. George and has been traveling with World Village for several years. Wilson had the opportunity to attend the World Village trip to Bolivia herself in the summer of 2016 with her husband and several other members of their family, including her upline and sister, Emili Whitney.
Since the 2015 doTERRA Convention, Whitney had been profoundly inspired to join a worthy cause and make a difference in the lives of those who have not received the same education and opportunities as she has. Whitney was particularly galvanized after listening to Days for Girls President and CEO Celeste Mergens present at convention, explaining her desire to create an organization that would help women all over the world.
Whitney was so moved by Mergens's experience that she made the decision to dedicate her time, talents, and efforts to making that kind of impact in the lives of others. Though once she returned home from convention, life picked up again and her vision of altruism was carefully set aside as she attended to everyday responsibilities.
But the drive returned when both sisters had the opportunity to participate in doTERRA's incentive trip to the Dominical Republic in January of 2016 where Wellness Advocates participated in a Days for Girls training and distribution of kits in a few local schools. Having graduated with a degree in Spanish in 2003, Whitney was able to talk to the girls about their bodies and answer the questions they had about the Days for Girls kits.
This experience reminded Whitney of the inspiration she felt listening to Mergens at convention, and she knew that it was time to do something about it. This time, however, Wilson immediately got involved with Days for Girls upon their return to the United States. She began making kits and eventually began a Days for Girls chapter in Cedar City, Utah. Inspired by her sister's example, Whitney started working with Days for Girls in her community as well.
When Whitney realized that Wilson was planning to attend the Bolivia trip with World Village during the summer of 2016, she jumped right on board. As doTERRA Leaders, Whitney and Wilson engaged the doTERRA Healing Hands Foundation in a matching campaign as they began planning their trip and establishing the humanitarian efforts to be accomplished in Bolivia.
The main humanitarian project World Village had planned for this trip was to construct a new classroom at one of the Bolivian schools. Additionally, Whitney and Wilson decided they wanted Days for Girls to be involved in their efforts if possible. Whitney explains, "After participating with [Days for Girls] in January, both Jenni and I felt that we needed to incorporate that into the summer Bolivia trip. We are both so passionate about it and wanted to start bringing kits down to educate the women in Bolivia. It went so well with what the World Village organization was already doing each year."
Wilson set the ambitious goal of preparing 1,000 Days for Girls kits to take with them with only five months until their departure to Bolivia. But her energy and passion were enough to encourage Whitney that it could be done, and they both began organizing their communities right away to begin sewing and assembling kits.
"We were amazed at the help and support we received through our events," says Whitney. "People from our neighborhoods, churches, and those we knew through doTERRA showed up to help us cut, sew, arrange, and compile Days for Girls kits." The sisters established assembly lines that allowed the members of their communities to come and participate as they had time throughout the day. Whitney and Wilson also allowed members of the community to take fabric and patterns home to sew on their own time, and accepted donations of soaps, thread, Ziploc bags, fabric, washcloths, and underwear. "I was so impressed and overwhelmed with those who were willing to share of their time, talents, and resources to help our cause," Whitney expressed.
Five months later, as Whitney and Wilson were packing up their kits, they realized that they had exceeded their enthusiastic goal by 50 kits. "[Jenni] set an ambitious goal of hitting 1,000 kits and worked so hard to make it happen," says Whitney, "I pitched in and helped the best I could, but the huge amount of kits was totally due to her efforts!" Finally, with all 1,050 kits packed, they were ready to leave for Bolivia.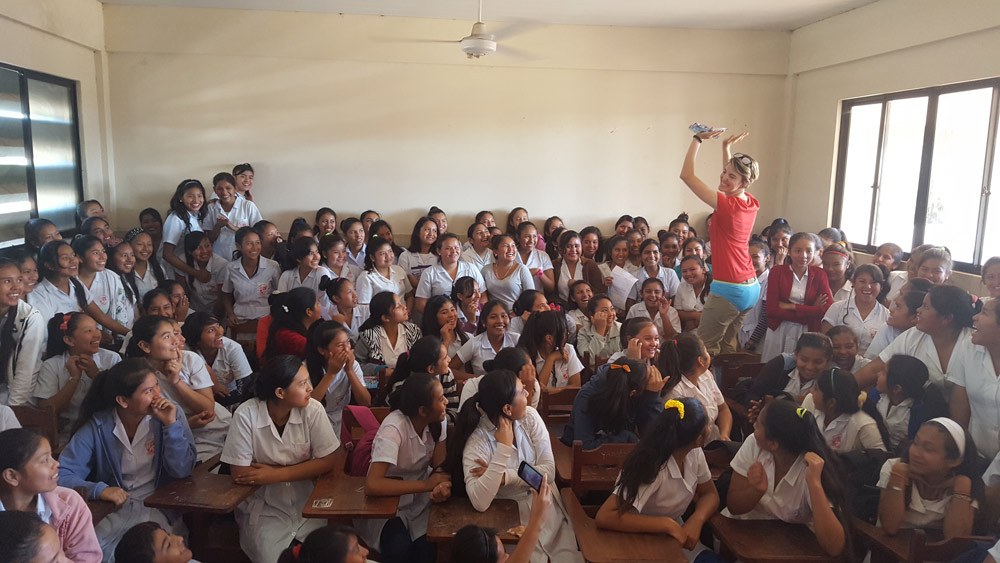 The trip to Bolivia was eventful, but they got to work as soon as they could. One of the first stops in Bolivia was at the Health Center to meet the in-country partners of World Village, in addition to getting right to work with a group of 15 in-country Red Cross nurses. Members of their expedition also began preparing the school for the new classroom and worked on additional humanitarian work that the community needed.
To prepare the ground for the new classroom, rocks and bricks were removed from the area, dirt was brought in so they could lay a flat concrete floor, and beams and roofing were painted in preparation for the room. World Village also donated baby bulb syringes and a new baby scale that does not run on electricity to the labor and delivery room in the Health Clinic. In their down time, expeditioners from Whitney and Wilson's party painted the Bolivian girls' nails with nail polish that they brought with them.
"I am so grateful for the World Village organization," says Whitney. "They have made valuable contacts and made a huge difference in the lives of the people of Montero, Bolivia. I feel blessed that we could join their group and work with them to educate more people and change their lives and future for the better."
And even considering all the wonderful work that they provided to the community in Montero, the highlight of the trip for Whitney and Wilson was still the Days for Girls trainings and kit distribution. And that was not all Whitney found herself grateful for after her experience traveling to Bolivia.
In addition to World Village providing her the opportunity to dedicate at least part of her time, talents, and efforts to making a difference in the lives of others, Whitney was grateful for the support of the doTERRA Healing Hands Foundation. "Thank you so much for your donation. It was incredibly helpful. [Jenni and I] are so grateful to be a part of doTERRA. It has blessed our lives incredibly and the lives of so many others because we had the chance to serve in Bolivia. Thank you!"