MamaBaby Haiti humanitarian Project
Donation Supports Installation of Solar Panels and Purchasing of Ambulance for Haiti clinic
---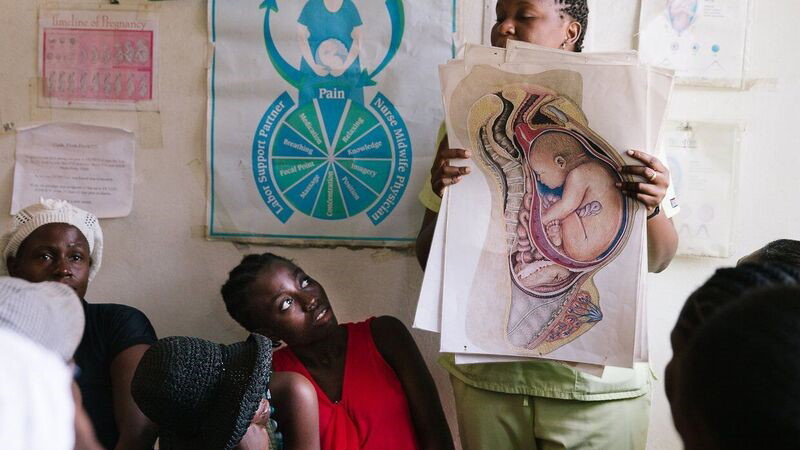 If anyone understands the meaning behind the Haitian proverb "Beyond mountains there are more mountains," it's mother, midwife, Wellness Advocate, and MamaBaby Haiti founding board member Jennifer Gallardo.
After an earthquake devastated Haiti in 2010, Gallardo traveled there to offer medical relief as the country struggled to rebuild. During her visit, Gallardo was moved by the tremendously impoverished Haitians living without access to running water or electricity, as well as by the significant lack of doctors, nurses, and midwives to staff their hospitals. Upon visiting one such hospital for the first time, Gallardo recalls "stepping over bodies in the halls, as women would birth and then have no bed to recover in, so they would lay on the cement floor in random corners on sheets they had brought themselves."
The remembrance of those in such desperate need of assistance impassioned Gallardo after her return to the United States to change the lives of Haitian women. Driven by the belief that no woman or child should be subject to death by complications of delivery because of where they live, Gallardo and her husband spent the next nine months establishing a non-profit birth clinic in Haiti with the help of friends and midwives Patricia Couch and Desiree Lefave.
MamaBaby Haiti was ready for operation by November of 2010. Instituted in northern Haiti, this non-profit birth center and health clinic is dedicated to providing a safe place for Haitian women to receive free prenatal, birth, postpartum, and gynecological care from compassionate Haitian midwives. As Haiti has one of the highest rates of death due to childbirth-related complications in the western hemisphere, Gallardo and MamaBaby Haiti have worked tirelessly to provide education, prenatal care, vitamins and medication, labor and delivery services, postnatal care, and family planning services to the women of Haiti who would otherwise deliver at home without a skilled birth attendant present.
Because MamaBaby Haiti offers these services for free, however, Gallardo needed to find a way to fund her organization and keep it running. Gallardo and her board members worked free of charge and contributed approximately $4,000 a month in personal funds to keep the clinic operational initially. But by 2015, their generator had worn out and their ambulance was no longer functional. The clinic was in dire need of financial assistance.
The doTERRA Healing Hands Foundation™ offered an admirable solution. Together with the support of her Presidential Diamond sponsors, Jessica and Clay Iddings, Gallardo was able to raise funds in a matching contribution campaign with the doTERRA Healing Hands Foundation in the spring of 2016. The campaign funds contributed to purchasing solar panels to replace the clinic's generator and buying a new ambulance for the clinic.
The installation of the solar panels will provide adequate light for night births, and the ambulance is the only method of rapid transportation for women and babies from MamaBaby clinics to hospitals in emergency situations. The Haitian villagers have also benefited meaningfully from the donation of the doTERRA Healing Hands Foundation to MamaBaby, as the ambulance is often used in communal crises beyond just obstetric emergencies.
"We have the power to change things," says Gallardo. "Saving the lives of millions of women and children requires a concerted effort from all of us. We just have to keep climbing, keep overcoming, and continue onward in serving others."
For more information about MamaBaby Haiti, visit their website.