Matching Donation Provides Medicine and Equipment to Ghana Hospital
dōTERRA leader Carol Ann Guest and member Arianne Johnson provide donation to Ghana Make a Difference to purchase medical supplies and equipment for a hospital in Winneba, Ghana.
---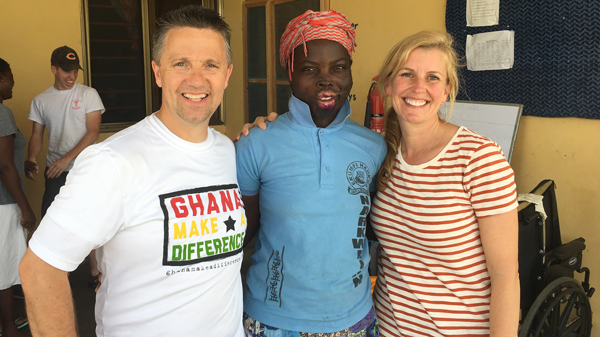 For many children in Ghana, infectious disease, lack of food and nutrition, and lack of access to shelter can result in significant health risks. Ghana Make a Difference is a nonprofit organization committed to improving the lives of these Ghanaian children by providing them with food, shelter, access to healthcare, and physical, mental, and emotional nurturing.
In 2016, doTERRA Wellness Advocate Arianne Johnson and leader Carol Ann Guest participated with the doTERRA Healing Hands Foundation™ on a matching campaign to support the efforts of Ghana Make a Difference. This campaign was specifically to raise funds intended to provide medicine and equipment to a hospital in Winneba, Ghana. Two medical and dental humanitarian expeditions with Ghana Make a Difference were scheduled for early 2017, and the matching funds from this campaign were intended to support those trips.
After a successful fundraising campaign, the donations were put to good use during the first of two expeditions, which took place in March of 2017. Among the 42 medical professionals from the United States that dedicated their time and expertise to complete these surgical, medical, and dental procedures were specialists of orthopedics, podiatry, plastic surgery, dentistry, urology, ophthalmology, and anesthesiology.
During the five days that these specialists spent at the Winneba Trauma and Specialist Hospital, training and encouragement were offered to Ghanaian doctors as they worked alongside one another to complete more than 300 dental procedures, 300 optometric procedures, and 50 major surgeries. Follow-up kits including bandages, antiseptics, sponges, bed sheets, and other items needed for post-operative care were also provided to patients.
In total, over 650 Ghanaians were able to receive medical care during this expedition, thanks in part to this matching campaign.
The donation from this matching campaign with the doTERRA Healing Hands Foundation was used to purchase ophthalmologist equipment, necessary medications, and surgical supplies for the 50 surgeries completed during this expedition. Of this donation, Arianna says, "We are so grateful for your generosity and all the good that the doTERRA Healing Hands Foundation does for the world. So many lives have been changed because of this medical mission."
The second expedition is scheduled for the summer of 2017, where U.S. doctors will return to perform follow-up surgeries, work with new patients, and check in with Ghanaian physicians.