The dōTERRA Healing Hands Foundation™ in Japan
Japan's in-country foundation funds provide relief to Japanese in need, 2015
---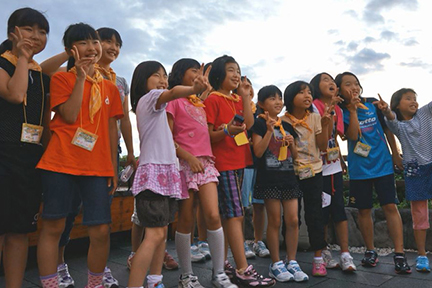 Thanks to donations by our doTERRA Wellness Advocates in Japan, children affected by the Fukushima Nuclear disaster have received assistance via the Fukushima Kids project.
This project has allowed children to participate in activities and camps like the Hikkaido Onuma program, which permits children to play outside for extended periods of time in areas that are not affected by high levels of radiation. The Fukushima Kids project also provides support by connecting children with others who have had similar experiences to their own.
In addition, Japanese Wellness Advocates banded together with the help of the doTERRA Healing Hands Foundation™ after torrential rains from a typhoon in 2015 caused significant flood damage in the Ibaraki, Tochigi, and Tohoku areas of Japan. The rain caused the Kinu levee to collapse, flooding homes and the surrounding area. Wellness Advocates in Japan raised money for support in these areas, and donated doTERRA product for use in evacuation shelters. Japanese Wellness Advocates also contributed their time and talents by using the AromaTouch® Technique to comfort those afflicted.