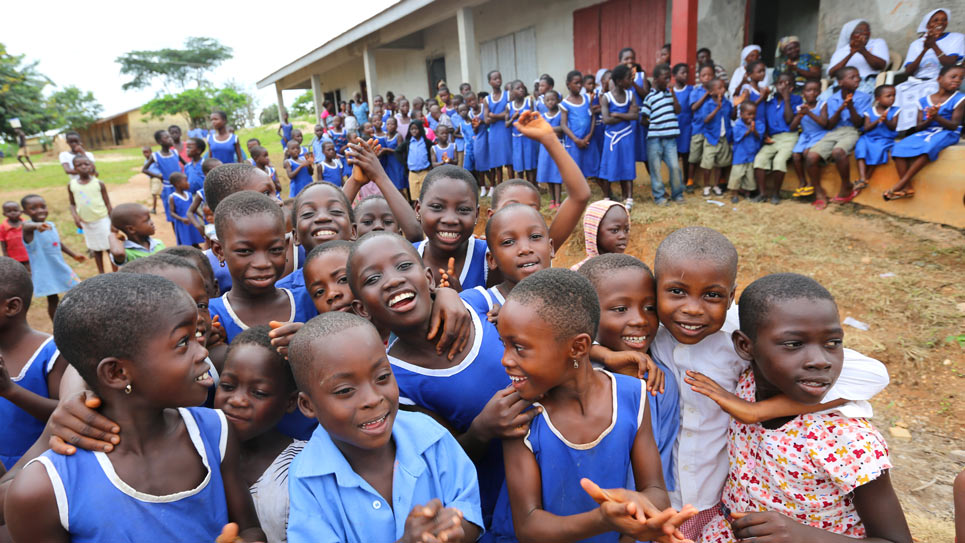 In July 2014, a group of 19 doTERRA Wellness Advocates and 17 corporate staff members embarked on the third doTERRA Healing Hands Foundation™ Service Expedition. The group traveled to Accra, Ghana, to start their journey and then traveled out to some smaller villages to finish work on a medical clinic, kindergarten school, and junior high school. The group also participated in training meetings for feminine hygiene kits and essential oil training.
After arriving in the country, the group visited the Deseret Hospital, where the doTERRA Healing Hands Foundation donated much needed medical supplies and equipment earlier in the year. The group received a tour and was able to see the items that their donations went toward purchasing for the hospital. During the visit, the group presented doTERRA essential oils along with training materials to the hospital staff.
The group then traveled three and a half hours from Accra to the villages of Abomosu and Sankubenase. The group was able to help finish the final touches on the newly constructed CHIP Medical Compound, a medical clinic serving the village of Sankubenase. The doTERRA Healing Hands Foundation paid for the entire construction of the CHIP Medical Compound, including bringing water to the clinic to help serve the people in the area. The group helped plant trees around the compound and do some final clean up as well as help dig a trench where pipe will bring water to the medical clinic. Also while in the villages, the group helped with painting and finishing touches on a Junior High School in Sankubenase and a kindergarten school in Abomosu.
On one of the days, group members were given the opportunity to attend trainings set up in the villages. The nurses that attended the trainings represented CHIP Compounds from the surrounding villages including the two that would be assigned at the newly built compound in Sankubenase. The training meeting included some basic training on essential oils and each set of nurses received a small bag of oils to try out in their clinics. Another training meeting was held in partnership with an organization called Days for Girls. Training was held in each village and young ladies were invited to come together and receive training on feminine hygiene. Each participant was given a feminine hygiene kit.
The culmination and highlight of the trip was the cultural gathering and dedication of the CHIP Compound in Sakubenase. The Chief, the District Health Director, and many local government officials as well as hundreds of local villagers attended. The program consisted of dedicatory speeches and cultural dancing and performances to thank the doTERRA Healing Hands Foundation for providing this medical clinic to their village.