Stick To It
Chad & Jodi Lewis
---
Jodi Lewis had already used essential oils for a long time when a friend introduced her to doTERRA. For about a month, she resisted, not interested in trying something different than what she already had, but eventually she gave in. She attended a class with her husband, Chad, and they came home with a Diamond Kit. "If you're going to do it, then do it big," Chad says.
Both Chad and Jodi are nurses, and were impressed with the product, compensation plan, and executives of the company. The compensation plan enabled Jodi to be able to quit her job within three months, but it took her four years to reach Diamond. Jodi says, "We both had a lot of personal growing to do. I truly believe that we were the ones holding ourselves back."
After four years, Jodi's leaders call her a "softer person." She says, "I'm very straight forward. I say what's on my mind, and I don't scoot around things, but I've learned how to do that with more kindness now. I've learned to work with people at their level and focus on what they want instead of what I expect from them."
"This has changed my outlook on life. I went into nursing wanting to help people, and with doTERRA I'm able to truly help people by giving them something that is an answer, not just a quick fix." –Jodi
In the beginning, Jodi had to rebuild Silver three times because her leaders kept dropping out. Today, she knows that her strongest builders are the ones that enrolled someone before she had a chance to tell them how. She says, "You never know for sure who's going to be a builder, but the ones you can recognize right off the bat are the ones who are sharing right away. I put my effort into those that want to host classes and call me saying, 'Where do I get sample vials?'"
Jodi has also learned not to compare herself to others. She says, "When you see people going Diamond all around you, you've got to just put your blinders on and stick to your own path. You can take advice and learn from them, but don't compare yourself to them. This business depends on other people, but you can only control yourself. Don't give up. We all have our own path and we all need to travel it. Comparing ourselves to others is not going to be helpful in any way."
Looking back, Jodi can see now how her life has drastically changed because of doTERRA. She had always wanted the kind of lifestyle the network marketing companies offer, and only through doTERRA has it become a reality. She says, "It's changed the way I see the world. It's changed my heart toward other people. Everything in my life is different. We're happy."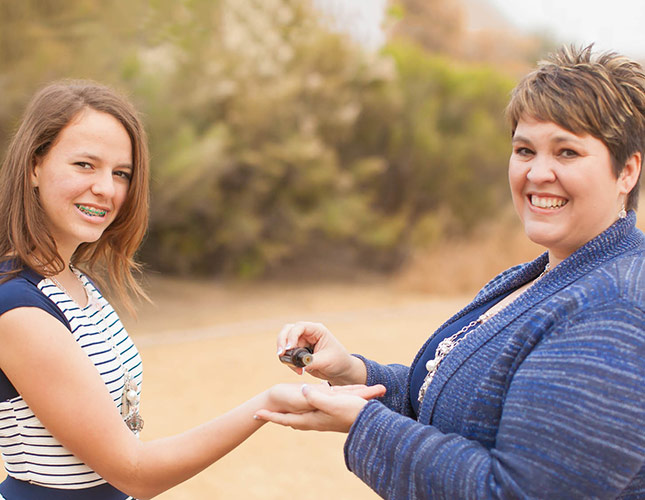 SUPPORTING YOUR TEAM
COMMUNICATE. "The best way to know how to help your team is by knowing what their goals are. Knowing what they want is the first step, but you won't know unless you ask and are in communication with them."
ACKNOWLEDGE. "Acknowledge the good that your team is doing either with incentives or recognition. Some people are motivated by prizes, others are motivated by words. Just knowing that about the person helps you help them progress faster."
MODEL. "Be at their class and show them how to teach it and how to follow up with someone. It takes a little more time on our part as leaders, but it really does have lasting benefits. The people on my team that are doing the most follow-ups are the ones that were shown how in person."
*Results not typical. Average earnings are less. See doTERRA 2014 Opportunity and Earnings Disclosure Summary on doterratools.com.