Following Their Footsteps
Kazuhiro & Chieko Takekawa
---
Chieko Takekawa had been searching for effective health products since she was a little girl. As she got older, her mom would encourage her to try different health products from various direct sales industries; however, Chieko didn't feel comfortable with how the sales representatives would try to sell expensive items to her parents. Eventually, Chieko decided to join a direct sales company herself, but found a dislike for the business expenses and the large amount of inventory she was left with.
When doTERRA came into her life, her view on direct sales shifted. She used the oils to assist with her health and also saw an opportunity to not just sell products, but to support the health of others in a natural way. She was also able to attend a leadership retreat in Guam where she met up with her doTERRA leaders Danny and Nicole Larson and Miki Matsumoto. Chieko says, "I was so touched and inspired by seeing how natural they were."
For Chieko, her leaders have been one of her greatest strengths through her business, showing her a brighter side of direct sales. Despite being an ocean apart from her leaders, they continually treat her as a close friend and have worked diligently to provide her with valuable resources through Skype appointments, webinars, and individual meetings.
Another source of support for Chieko comes from her family. She is able to be open and transparent with her family, and, in return, they continue to sustain her through her businessbuilding endeavors. Her husband, Kazuhiro, has also joined her in the business. At the start, he was supportive of Chieko and doTERRA, but had no plans of joining. However,
"Anyone can try this business if they are motivated. It will change their lives forever."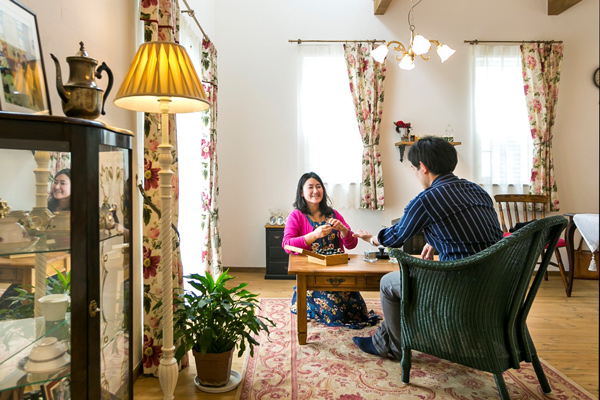 once he learned more about doTERRA, he began helping her more and more.
Now, Chieko finds great happiness in her direct sales experience and even started to work as an aromatherapist, which helps her to naturally share the joys of essential oils with others. Though the business can get hard sometimes, she knows that through the support of her leaders and family and her continual belief in herself and her team, her dreams can come true. Because of the positive influences of her leaders, Chieko's recommendation to others who are building their business is to "trust the advice that you receive from your leaders, because you will succeed if you follow in their footsteps."
CREATING IMPACTFUL EVENTS
WHY HOLD EVENTS:
"You can motivate each other and develop a sense of belonging by attending events."
HOW TO INVITE:
"I invite people and tell them that this event can be an opportunity that will influence their lives for the better."
WHAT TO TEACH:
"It is important to explain how to use oils, but I think the most important thing is to help people understand why doTERRA is different."
WHAT TO DO WHEN PEOPLE CANNOT ATTEND:
"I provide support to members through tools such as Skype and webinars."