New Zealand Douglas Fir
Commitment to Environmental Responsibility
---
The purposes behind the doTERRA Co-Impact Sourcing® initiative are varied. From ensuring the highest quality essential oil to facilitating humanitarian efforts with communities where our oils are sourced, each "co-impact sourced" oil presents a unique opportunity to have an impact on the world. In the case of Douglas Fir, one of the most unique benefits is the positive impact the sourcing of this oil has on New Zealand's environment.
"With this Douglas Fir essential oil," says Tim Valentiner, Director of Strategic Sourcing, "we have been able to create with our partners a truly unique essential oil that provides tremendously positive environmental impacts for New Zealand's biodiverse landscape, highlighting the environmental responsibility objectives of Co-Impact Sourcing."
Wilding Pines
Douglas Fir (Pseudotsuga menziesii) is an evergreen conifer species native to western North America that has been used primarily in the lumber industry. However, in New Zealand, Douglas Fir has been categorized by the government as an invasive species. It was planted originally for the lumber industry, and from there it bred very rapidly and uncontrollably into areas where it wasn't intended to grow. The trees grow 25 times faster in New Zealand than in North America, and the dense root systems push out all or many of the native species of plants, making it nearly impossible for anything else to grow. Douglas Fir trees, which are known as "wilding conifers" in New Zealand, are also self-seeding. This means that they produce seeds that fall to the ground and replant themselves in that location. These seeds germinate then begin to sprout and grow at the start of the growing season. By the end of the season, new seeds are produced and begin the cycle over again. This, coupled with the rate of growth in New Zealand, is the cause behind the "wilding conifer" problem with Douglas Fir.
doTERRA Solution
To help alleviate the environmental impacts of this wilding problem, doTERRA established an exclusive sourcing partnership with a small-scale company. This company works through government and other programs for the harvesting of these invasive Douglas Fir trees for raw materials, and then distills them into an invigorating and truly unique essential oil. Choosing to source Douglas Fir oil from New Zealand provides doTERRA with an opportunity to participate in a project that is very socially innovative and environmentally responsible—literally turning a problem or pest into a beautiful, sustainable product.
"We are reducing the problem, we are having a great ecological impact, and, in return, we get this beautiful essential oil." –Dr. David K. Hill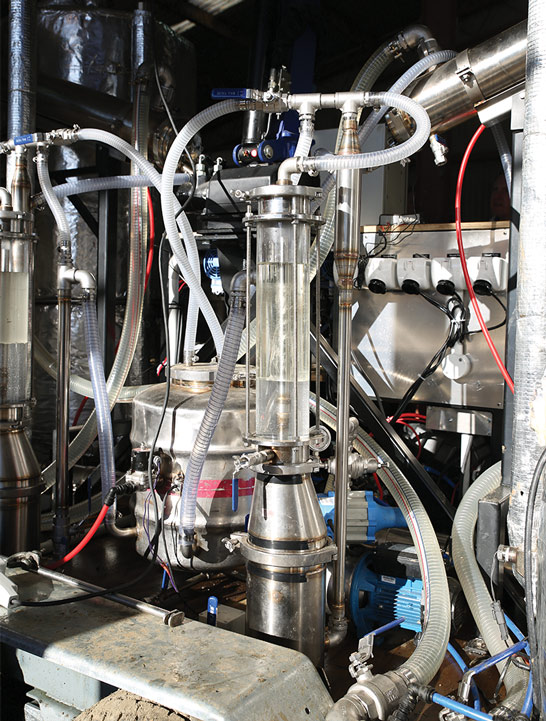 Harvesting, Distilling, and Sustainability
The trees which are targeted for harvesting to help counteract the wilding problem are typically young, pre-coning pines before they are able to reproduce and spread seed.
Once the raw material has been collected, the distillation method used is a specialized distillation process that captures the very aromatic, light notes that are found in the Douglas Fir. Through utilizing a proprietary vacuum steam distillation process, it is able to run at a much lower temperature preventing the lightest, most volatile notes from flashing off.
In essential oil form, doTERRA Douglas Fir boasts a lemon-scented note that is both sweet and refreshing. Due to a unique chemical composition that is rich in beta-pinene, which contributes to its ability to promote feelings of clear airways, to purify the skin, and to promote a positive mood, Douglas Fir also promotes an uplifting environment while freshening the air.
Due to the quick maturation of Douglas Fir trees in New Zealand, there is an overabundance, which makes this source very sustainable. Though we have made a small dent in the amount of trees that need to be removed, there are still many years of New Zealand Douglas Fir yet to come, creating a long-lasting opportunity to work alongside New Zealanders in combating this problem while supplying a unique essential oil unlike any other conifer essential oil.
THE FACTS BEHIND DOUGLAS FIR ESSENTIAL OIL
Douglas Fir has both alpha-Pinene and beta-Pinene, two powerful monoterpenes. This chemical compound is what gives Douglas Fir both energizing and calming properties.
The trees are harvested at a young age as part of a biodiversity conservation program, which actually changes the chemical composition of the oil.
The lower temperature of distillation through utilizing a vacuum process creates an oil that has more volatile aromatic compounds.