Haiti, Vetiver, and Cō-Impact Sourcing®
Changing the world one drop, one person, one community at a time.
---
In February 2014, the commitment to provide essential oils of the highest quality, purity, and potency led doTERRA executives to Haiti. They arrived in Port-au-Prince and then drove five hours to the town of Les Cayes. There they met with production partners, toured the distillery, and met the vetiver growers. They found a lot of potential for success, as well as a lot of work that could be done. Co-Impact Sourcing together with Healing Hands provided the perfect solution—lives were about to change.
The poorest people in Haiti, a country already considered the poorest in the Western Hemisphere, live in the foothills. The soil is so depleted in these areas that no food crops can be grown. Living in an economy with very limited opportunities that is still recovering from natural disasters, many Haitian farmers struggle to eke out a living from half-acre plots of vetiver roots that only provide them a meager income during limited months of the year, if they get paid at all.
"There are givers and there are takers. We wanted doTERRA to be a giver." –David Stirling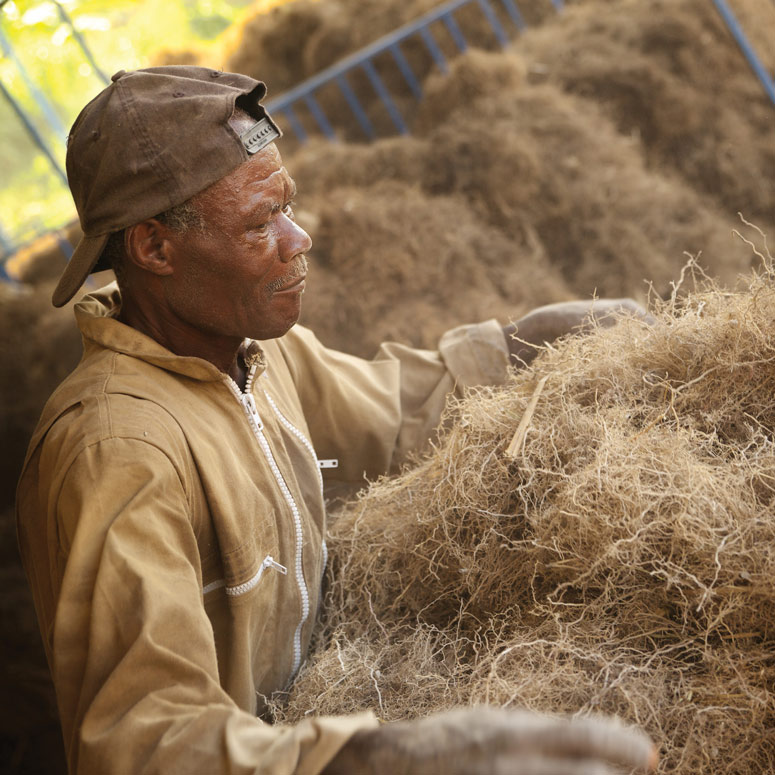 The perfume industry introduced vetiver grass to Haiti in the 1930s. Even though the soil in Haiti lacks the nutrients needed to grow food, vetiver thrives in these harsh conditions. Vetiver roots produce an expensive essential oil that is incorporated frequently into fragrances, and is considered to be among the most complex essential oils. It is also quite labor-intensive to produce. Vetiver requires 16–18 months for the roots to mature and then, not only must the plant be dug out of the ground, the dirt must also be beaten out of the roots. While this process is easier during the dry season, an immediate need for cash often leads farmers to harvest the roots before they are fully mature, which typically yields incomplete oil below the quality of doTERRA essential oils.
The Haitian vetiver sector doesn't lack for potential; the problem lies in the lack of organization and knowledge sharing among the growers. Without coordinated efforts and education there is typically no one to advise when vetiver should be harvested, but neither is there typically anyone to ensure payments in favorable installments when purchasing roots from the growers. doTERRA is striving to solve that problem by forming growers' cooperatives. Cooperatives facilitate a leadership level of organization that families can choose to take part in. By being part of the cooperative, farmers are able to receive training on how to grow higher quality vetiver. doTERRA also established—in conjunction with its exclusive distiller partner—a favorable payment schedule for growers where they are paid at planting, pre-harvest, and at harvest. Growers that produce vetiver roots yielding superior quality essential oil are further rewarded through a premium payment, facilitated by a traceability system that tracks each grower's roots from each distillation.
The mission of doTERRA to provide the world with the highest quality CPTG Certified Pure Therapeutic Grade® essential oils is changing lives in ways once thought impossible. Now, thanks to Co-Impact Sourcing, doTERRA is also bringing hope to the people that help provide these precious gifts of the Earth.
Eighteen of the 26 countries doTERRA sources essential oils from would be considered developing countries. Many of these countries face economic and environmental challenges that prevent their citizens from having a better quality of life. doTERRA developed the Co-Impact Sourcing approach as an answer to many of these challenges.
Co-Impact Sourcing has long been a vision that doTERRA has aspired to fulfill. Through this program, doTERRA can not only ensure a long-term supply of CPTG essential oils from dedicated partners, but also improve the livelihoods of the small-scale family farmers that grow the best quality
CO-IMPACT SOURCING:
PEOPLE: doTERRA works directly with growers to form long-term partnerships and ensure fair and timely payments. These partnerships help improve livelihoods by providing job opportunities, training, and various Healing Hands funded projects.
PLANTS: Growers are trained on how to implement sustainable agriculture and natural resource management practices in planting and harvesting. Distillers are also encouraged to utilize renewable energy and energy-efficient technologies where possible.
PRODUCT: Through developing long-term sourcing relationships with growers and distillers, doTERRA ensures loyal supply chain partners. doTERRA is then in a unique position to responsibly guarantee the long-term availability and consistent quality of essential oils.