On the island of Nosy Be, just off the northwest coast of Madagascar, the branches of ylang ylang trees stretch out parallel to the ground. The careful growers purposefully prune them that way to make it easier to harvest the tree's blossoms. But even as the blossoms become easier to reach, sustainable income from their harvest continues to be a difficult problem to solve. doTERRA and an on-the-ground partner are now working to empower those who produce Ylang Ylang essential oil—the growers, harvesters, and distillers—to change their own circumstances, starting with their income.
The Heart of Co-Impact Sourcing®
As in other places where Co-Impact Sourcing is being implemented, Nosy Be has its struggles. It also has great potential thanks to our highly valued partnership we have with the people that was facilitated through our partners on the ground. Co-Impact Sourcing works because of the empowering effects of partnership. These partnerships ensure fair treatment for growers or harvesters, which is usually jeopardized by middlemen. The demand doTERRA has for quality essential oils means that ylang ylang growers and distillers have a guaranteed buyer. Without such a buyer, distillers sell their oil to the highest bidder, which does not always pay that much. Price speculation hits farmers who are not in a cooperative or who do not have a partner committed to helping them succeed especially hard.
There are other benefits, too. Growers who create quality product and then continue to improve it are rewarded for their efforts. Not only do they receive a fair wage, in return for producing higher quality oil they are rewarded with an annual bonus. They can also invest more in expanding their production capacity by putting in new distillation units and getting more growers into cooperatives so they can be better organized to reach higher production volumes.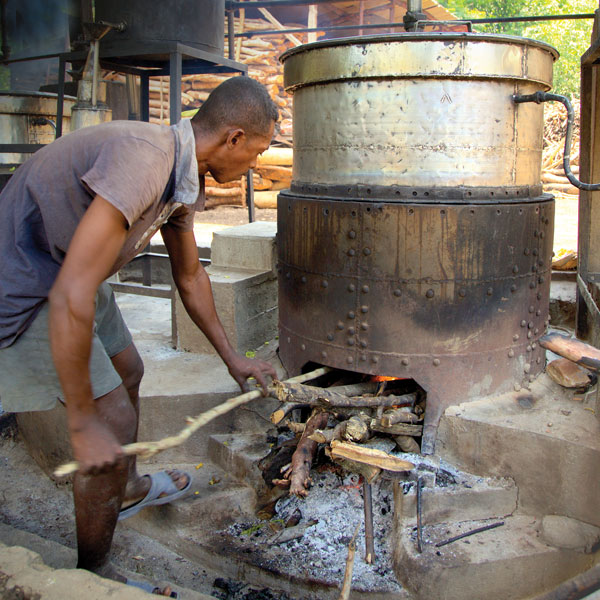 Why Ylang Ylang?
Since the late 1800s, ylang ylang, or Cananga odorata, has been grown in Nosy Be, and from these trees comes some of the highest quality Ylang Ylang oil in the world. Originally introduced to Madagascar by French perfumers when it was a French colony, ylang ylang has a very refined process of distillation. As the perfume industry needs very specific scents, a specific method was developed unique to this oil. Ylang ylang is divided out into several different profiles: Ylang Ylang I, II, III, extra, and complete. This means that different weighted molecules come off during differing times in the distillation process, top notes first, and bottom notes last. For doTERRA Ylang Ylang, the Ylang Ylang complete profile is used.
doTERRA requires the complete profile so that there is no separation of aromatic molecules, thus ensuring that we receive the complete array of compounds produced by the delicate flowers for its full therapeutic benefit. Perfumers, on the other hand, prefer separation for specific fragrance profiles. This precious oil is often used for its mood lifting properties as well as for promoting healthy looking skin and hair. Ylang Ylang is also one of the primary oils in our Console blend because of its ability to soothe emotions.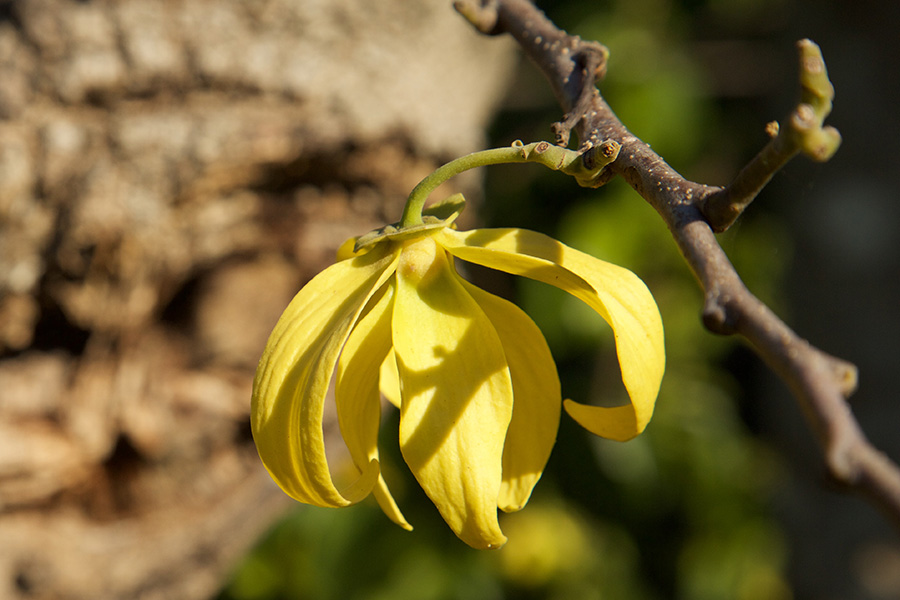 For the Future
The Healing Hands Foundation is in the process of reviewing possibilities for a community benefitting project in Nosy Be in partnership with a ylang ylang cooperative that doTERRA works with through the Co-Impact Sourcing initiative.
Video disabled by your privacy settings
The Intricate Process
Ylang Ylang essential oil is incredibly labor intensive to produce. Harvest time peaks from December to March. Before a tree can be harvested, it needs to grow for three to four years. Once that age is reached, the process can begin:
When flowers become yellow with a red center, they are ready to be picked. The trees must be harvested multiple times over a five to six week period.

Harvesters collect the flowers and bring back their filled baskets to be weighed. They then create a pile on a platform and write their names next to their pile for record keeping and payment.

The flowers are then delivered to a nearby distillery where they must be distilled within 24 hours.

Like all flowers, ylang ylang must be distilled in a hydrodistillation process, meaning they are placed in water and boiled to create steam that contains the oil. This process takes 24 hours to complete, with workers keeping up hand-fed fires to fuel the distillation process.


Ylang Ylang complete essential oil is then ready to be sent out.