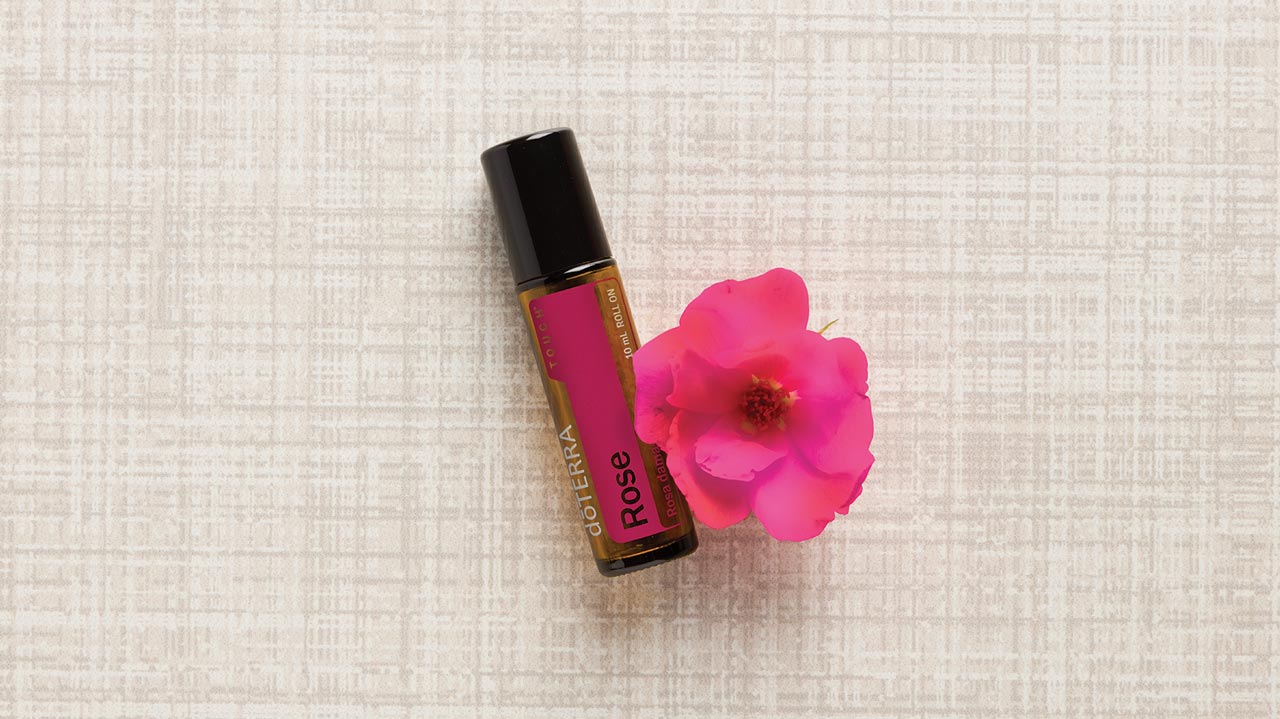 Previously only available during special promotions, the long awaited Rose oil is now available for regular purchase in a 10 mL roll-on bottle as a part of the doTERRA Touch® line. doTERRA Rose Touch combines Fractionated Coconut Oil with Bulgarian Damask Rose essential oil, one of the world's most recognized fragrances in both personal care products and perfumes. Rose oil is incredibly time consuming and expensive to produce—242,000 hand-picked rose petals make about five ounces of rose oil. However, the benefits Rose oil offers are well worth the effort. For this reason, Rose oil is the perfect addition to the doTERRA Touch line as it makes this unique oil more widely available to everyone. In addition, dilution actually enhances the effectiveness of the oil, and the roller ball packaging makes applications and usage options both affordable and convenient.

Known for its sweet floral fragrance, doTERRA Rose Touch is a must-have addition to your essential oil collection for skincare, mood, and personal fragrance purposes.

Rose Oil Uses
If you love the sweet floral note in perfumes, Rose oil is the perfect natural fragrance for you. Apply Rose Touch to your neck, behind your ears and to your wrists to enjoy the rose's romantic and unique scent—free of additives or chemicals.


The scent of Rose oil brings with it the power to uplift your soul and change your mood for the better. For those times when your day seems clouded by stress or worry, ease your emotions by applying doTERRA Rose Touch to your heart and pulse points.


Rose essential oil is known to reduce the appearance of skin imperfections and promote healthy-looking, radiant skin. We recommend applying doTERRA Rose Touch directly on skin imperfections both in the morning and at night. Not only will it help reduce the appearance of skin imperfections, it will also promote an even skin tone and healthy complexion.

Need another reason to include Rose Touch in your skin care routine? Your skin needs the appropriate levels of moisture to be able to function properly, which means hydration is key. When you're dehydrated or your skin care routine removes too much moisture from the skin, your body will react by producing too much oil. Rose oil helps balance the moisture levels in your skin, which will keep your skin looking its best.
Fun Fact
In medieval Persia (now known as Iran), Avicenna (980-1037 AD), a Persian doctor wrote extensively on health and wellness and is credited as the father of aromatherapy as we now know it. He attempted various distillation methods using flowers and was eventually able to isolate the scent of the rose as well as produce rose water.

Other Products
Rose essential oil is included in many doTERRA proprietary blends. These include doTERRA Console®, Immortelle, and Whisper®.
How would you rate this post?