Leadership Retreat 2017 Recap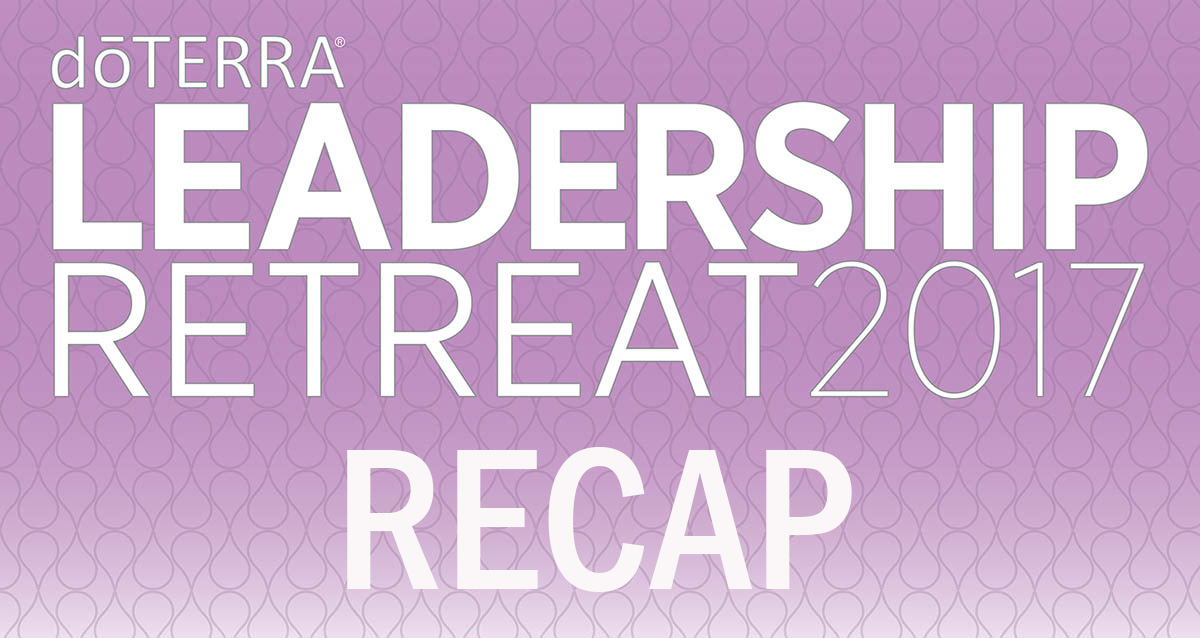 Leadership Retreat 2017 Recap

We just wrapped up another fun and empowering Leadership Retreat. We loved spending time with some of the top doTERRA leaders and feeling of your incredible energy! Thank you for coming and for making it such a great event.

Part of what makes every doTERRA event so wonderful are the special announcements. Read on to learn more about the exciting new announcements that came out of Leadership Retreat.

Empowerment Pool
doTERRA is excited to announce a compensation plan enhancement that provides an additional bonus to actively building Premier and Silver ranked leaders. This pool is intended to empower emerging leaders with additional income to continue building their doTERRA businesses and to recognize and reward their efforts.

What is the Empowerment Bonus?
This bonus is a pool, similar to the Leadership and Performance pools, which pays out shares based on the number of Wellness Advocates who qualify. The total sum of the pool will be made up of 1% of global company volume. Each Premier and Silver who qualify will receive one share in the Empowerment Pool.

What are the qualifications for the Empowerment Bonus?
First, a Wellness Advocate must be paid as a Premier or Silver that month. Second, the Wellness Advocate needs to be the personal enroller on a new member (Wholesale Customer or Wellness Advocate) who enrolls with 100 PV or higher order that month.

Is this bonus received weekly or monthly?
The Empowerment Bonus is paid out with primary commissions between the 15th and 20th of the month following qualifications. Wellness Advocates will see this bonus appear near the end of the commission statement.

Can the Empowerment Bonus be earned more than once?
Yes, this bonus can be earned monthly as long as the qualifications are achieved each month.

When does the new bonus pool start paying out?
The new pool will be in place starting with March 2017 commissions. The payout will first be given around April 15th to April 20th with the primary commission run for the March commission period.

Will Silvers still receive a share in the Leadership Pool?
Yes. Silvers will still be paid in the Leadership Pool—one share for hitting Silver with the potential to earn extra shares for new personally enrolled, first-time-hitting Elites.

Is this pool available to all markets?
This pool includes all markets except Taiwan, which will continue to pay out the Taiwan Rising Leader Bonus.

Healthcare Professional Sign Up
The future we are trying to accomplish will be accomplished. There is not another company that can do this.

We are seeking to partnership with medicine. To continue to seek and grow these partnerships:
Establish a standard of care.
Establish patient protocol.
Create science and validation.
Currently we have 120 active medical relationships. There are 20 doTERRA papers submitted for peer-reviewed publications, with five of those papers already published.

The next steps include:
Increasing medical and scientific partnerships
Creating continuing medical education and symposiums.
Getting physician forums and participation.
How can Wellness Advocates help?
Keep sharing doTERRA.
Emulate our common mission and purpose.
Let doTERRA do the difficult work.
Dr. Hill asks that leaders please not try and work with doctors and hospitals personally. At this time, it's best to let Dr. Hill and his team start working on those relationships.

If you want to learn more or contact Dr. Hill about healthcare professionals, please email healthcare@doterra.com or visit https://sourcetoyou.com/healthcare/.

Earnings Disclosure Statement
Corey Lindley announced that Earnings Disclosure Statements (EDS) are now available.

Upcoming Events
Convention
Convention 2017 is almost here! The theme this year will be "You." The focus is going to be on you. Photos will be of real Wellness Advocates around the globe. This convention will be ground breaking!

Incentive Trip
The 2018 Incentive Trip will be Dominican Republic at the Paradisus Palma Real Resort. Dates will be February 5–9, 2018 with the qualification period being March 1 – August 31, 2017.

Leadership Retreat 2018
We'll be in both Orlando and Long Beach again in 2018! Orlando will be March 13–15, 2018. Long Beach will be March 26–28, 2018.

Regional Summits
We've brought back Regional Summits. These summits are product education for 1 ½ days. There are five dates for the U.S. and two dates for Canada. Price is $49/person.

For questions, email events@doterra.com.

Product Information
New Enrollment Kits
This spring we're launching beautiful new packaging for the Diamond and Every Oil Enrollment kit. All enrollment kits will soon receive a makeover.

Emergency Relief Hygiene Kit
Beginning Spring 2017, Wellness Advocates can purchase Disaster Relief Hygiene Kits. The kits include doTERRA Soap, doTERRA Shampoo and Conditioner, toothbrush, doTERRA On Guard® Toothpaste, Band-Aids, 10mL Melaleuca Touch, and Deep Blue® Rub.

The price is $25 with 25 PV. Wellness Advocates can purchase four hygiene kits for $100/100 PV or 20 hygiene kits for $500/500 PV. doTERRA will do the actual kit donation.
Coming soon will be a Meal Replacement Shake and an Emergency Nutrient Option. Both are still in development.
From February 2016–January 2017, $4,076,662.35 has been donated to Healing Hands!

Product Enhancements
doTERRA Serenity® Bath Bar Update
Available April 3
Retail $9/Wholesale $6.75/5 PV
Liter Size Shampoo & Conditioner
Available April 3
Shampoo Wholesale $45/35 PV
Conditioner Wholesale $50/40 PV
Vegan Microplex VMz®
Available April 3
Wholesale $49.50/39.5 PV
Vegan Lifelong Vitality
Available April 3
Updated vEO Mega
Wholesale $89.50/60 PV
Business Advancement Team
We're excited to announce a new team in Member Services! The Business Advancement Team will be up and running by April 3, 2017!

The purpose of the Business Advancement Team is to help downlines push to get to Premier and to get the Empowerment Bonus. ALL Wellness Advocates interested in becoming leaders, and anyone interested in becoming a Wellness Advocate, will have access to this team.

If you'd like to contact the Business Advancement Team, call 801-370-2140.

Technology Update
Interested in what's happening in IT to sustain growth? The team has been very busy!

We've embarked on a multi-year journey to replace all major systems. 2015 was a year to lay the foundation; 2016 we began to see some of the structure take place; 2017 is when we'll start to see the building.

Key elements that will be released in 2017:
New shop site
Profile management
New CRM tools
New enrollment site
How would you rate this post?